Our Recipes …
Here you will find our collection of Giannetti Artisans homemade Italian recipes, Enjoy!
---
Everything You Need to Know About What Makes Porcini Mushrooms Molto Buoni
From Boccaccio and Leonardo to Puccini and Fellini, Italy has long been a land of passion and character, and that's reflected in its cuisine as well. Italian cuisine ranks among the most robustly characterful, with its many regions distinctly represented in equally-distinct delectable dishes.
Even so, few things unite the unique regions and culinary traditions of ...Continue Reading »
Sicilian Pistachio Gelato Recipe
Sicilian Pistachio Gelato Recipe   For the simple syrup: 1/2 cup water 1/2 cup granulated sugar 1 tablespoon corn syrup
Pistachio Paste for Sicilian Pistachio Gelato Recipe :
1 jar of Giannetti Artisans's Pure Sicilian Pistachio Paste
For the ice cream: 3/4 cups whole milk 2/3 cups granulated sugar a pinch of salt 1 1/2 cup heavy cream, divided 4 whole egg yolks 1 cup pistachio paste, ...
Continue Reading »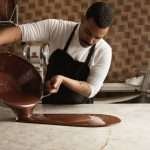 4 Artisan Foods That Make Great Gifts
If you are looking for the perfect gift to send a friend or family member for a special occasion, consider sending an authentic Italian treat. We carry a variety of delicious Italian foods and snacks, and we have picked four that we feel make the best gifts.
Italian Handmade Almond Biscotti
Our Italian handmade almond biscotti are ...Continue Reading »