Our Recipes …
Here you will find our collection of Giannetti Artisans homemade Italian recipes, Enjoy!
---
Unique Jam Recipe: What is a Bergamot Fruit?
Bergamot is a very popular fruit in Italy with a slightly bitter taste and an  incredibly light, fragrant zest. It is best known for its bold citrus flavor, which is also very sweet. Bergamot gives Earl Grey tea it's unique flavor. Because Bergamot oranges are only available during the Fall and Winter, they are very ...Continue Reading »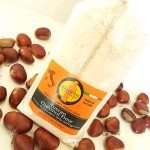 Giannetti Artisans Italian Chestnut Flour in the Making
Gianetti Artisans Chestnut Flour will be ready to ship in December – just in time for your holiday baking.
Chestnut flour is a spectacular, simple, yet relatively unknown flour. It is produced in Piedmont, Italy, a region that is surrounded by the Alps and Adriatic Sea, and is a product made from chestnuts that have been ...Continue Reading »
Tagliatelle Pasta Recipe with Italian Porcini Mushrooms
Tagliatelle Pasta with Porcini Mushrooms
Porcini mushrooms are a true Italian delicacy. Their nutty, meaty and earthy taste makes them the perfect addition to sauces and broths and are often used in gourmet Italian recipes. Dried Porcini Mushrooms are the perfect way to keep and store these nutritious and delicious treats. Giannetti Artisans Italian Porcini Mushrooms ...Continue Reading »